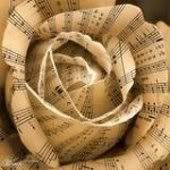 Classical music is a lost art. A form of entertainment that our generation has labeled old fashioned and in some cases boring. It's not upbeat and compelling enough for high action entertainment. Well, I must admit it took me awhile to appreciate it myself. You see except for the standard pieces that everyone knows and recognizes, classical music is not understood or appreciated. You know how people say that coffee is an acquired taste, well... classical music is like that. Not necessarily acquired but definitely something that once you understand and know what to look for you appreciate it more.
Let me tell you a story. When I was a little girl I didn't know what classical music was. My Dad has liking for it so I would hear it occasionally. Otherwise I was clueless. When I started playing the violin I understood that it was the music that violinists played. I figured I should like it, but other than the fun opening to Beethoven's Fifth Symphony and the Hallelujah Chorus, I cared little for it. I played the violin for about 10 years before I really began to enjoy it. I had a violin teacher that was really helping me to see the fun in classical music when we moved to a different state. Not being exposed to that information made me lethargic. A couple years later I started taking lessons at the local college. It was then that the world of classical music began to unfold. Classical music, to me, is best looked at as a giant, wordless, storybook. If you are willing to listen and use your imagination you will be able to find, in music, a variety of stories.
One of my favorite pieces is Dvorak's New World Symphony. It's called New World Symphony because he wrote it when visiting a Czech Village in Norther Iowa. But the symphony isn't about Iowa. It's a piece heavily seeped and influenced by Czech Folk Music. If you listen to the piece you can follow the story of a peasant man who leaves home to fight for his country. It follows his tearful goodbye to his wife and children, his journey through the countryside passing a wedding, a funeral, and the distant thundering of cannons as he nears the army camp. It ends as a battle rages and the man thinks of his family and ultimately gives his life for his country. You didn't know that, did you? I didn't either. After it was explained to me that way it made sense, I understood the piece. When I listen to Dvorak's New World it's like there is a TV in my brain and I can see it all unfolding. A couple years ago we played a piece in orchestra and I swear there was a western part in it. It sounded just like Cowboys and Indians. A couple months ago I brought home a CD of Andre Rieu's Strass Gala. I put it in and the next thing I knew Luke and Sarah were galloping around the house. They thought the music sounded like horses.
Once you allow yourself to imagine and fill in the lack of words with a story of your own, classical music becomes a whole new world of entertainment. A world where you can site back, relax, shut your eyes and allow the music to tell the story. No reading required.