Music expresses that which cannot be put into words and that which cannot remain silent.
~Victor Hugo
Sadly, I don't know a piece of music that will aptly describe my life. So, I will attempt to do it with words instead....
I was born, to my parents delight, not on Halloween but on November 1st, 1984. I was born the 3rd of what would eventually be 9 children. (Rebecca "Dr. Jak" is my oldest sister, she gave a good family overview earlier
so check it for more info
). Ever since I was little I've been one of those people who throws themselves 110% in everything. By the time I was 8, my parents were asking God what they needed to do for me. Asking Him to show them how He needed my to funnel my intense nature. And God spoke that they were to get me a violin. Now, we weren't rich, so it was a big deal that I got a violin and lessons and all. And just like any normal child, I didn't appreciate it then, I didn't want to practice, take time out of play for work. So, my mom informed me that if I didn't start practicing and earn the privilege of lessons that I would lose the privilege. Well, I didn't want to lose that privilege, mostly I didn't want to lose the one thing I had that my sisters didn't so I went to work and faithfully practiced. And I have never regretted it.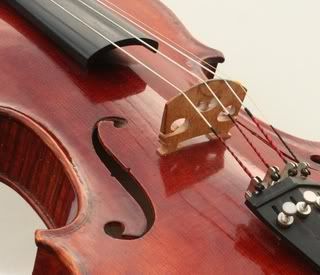 The winter of 97 we moved from Colorado to Dad's hometown in Iowa. It was strange in the beginning moving to a smaller town. Driving to the grocery story in less that 10 minutes was a novelty and I soon realized that I was a country girl at heart. The move brought about what is one of the best things to ever happen to me music-wise. I started taking lessons from a woman in town who really helped me develop a love for music.Since that time there were 2 things that I knew I wanted to do. I wanted to be a violin teacher and I wanted to play in a symphony. Be able to impart the beauty of music to others. I tell my students that music is like a story book, and the musician is the one telling the story. For the past 4 years I have been teaching violin lessons. I started with one student and now have a grand total of 10.
You might remember Rebecca (my sister) mentioning that our parents own the local DQ. Well... that has been my one and only job. I started there the week after we bought it and here I am eight and a half years later I'm still plugging along. I started out as an employee and am now a shift leader and cake decorator.
I took one year of college at the local state university. I was going for a degree in music performance. God told me to stop going full time a couple of years ago and since then I have only taken a few classes. My work schedule and time conflicts with the classes I need to take have inhibited my from finishing my degree. I'm hoping to some day be able to finish it over the internet or by correspondence.
Besides work and teaching, I keep my schedule full with work for a children's magazine, doing odd tech support job for my family and volunteering for more than I have time to do.
In my occasional spare time I enjoy:
Sewing
Quilting
eating chocolate
doing nothing
playing with my baby brother and sister
hanging with the rest of my family
and enjoying meaningful and hilarious conversations with my sister
And if I really have spare time!
reading
cross-stitching
history
photography
Hope I didn't bore you all too much ;-)
If you have any questions feel free to ask.